Lenten Offerings ...
Thursdays
Ashes and Music
On February 19 children will gather for a special time to experience Ashes and sing with Fr. Jeff beginning at 5:45 p.m. Parents are welcome to join this experiential time or gather for conversation and refreshments in the kitchen.
"The Lord's Supper" follows at 6:30 p.m. A simple supper for all ages between the Children's Choir and Adult Choir rehearsals. This will be followed by Good Night God prayers at 7:10 p.m. Please sign-up as soon as possible here.
Adult Choir Rehearsals
7:30 p.m. each Thursday evening in Lent. All are welcome to join the choir and those who wish to sing for Easter services are encouraged to come for the first 30 minutes of rehearsal time.
Evening Bible Study ... Living Well through Lent
Thursday evening from 7:30 to 9:00 p.m. Sue will facilitate the conversation and each participant will be given a devotional program with daily reflections on the Sunday gospels focusing on practicing resilience with all our heart, soul, strength, and mind. Please be in contact with Sue to join this group or sign-up at church. At least 8 persons must commit to hold this study.
Daily Lenten Morning Prayers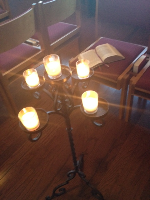 At 8 a.m. each weekday in Lent St. Dunstan's offers parishioner-led Morning Prayer, a brief quiet service with scriptures and psalms. Why not consider stopping by one morning a week on your way to work or after dropping off the kids for a few moments of candle-lit peace and prayer at the back of the church. Enjoy 20 minutes of peace before stepping out into the world.
Other Lenten reflections and growing opportunities ...
Lent Madness - vote for your favorite saint, learn about their life and witness, and explore legends, quirks, quotes and even enjoy saintly kitsch. Find out all you need to know to make an informed selection.
Two great devotions sites for youth:
d365 -
a daily devotional specifically designed for youth and young adults. Produced by Passport, Inc. and sponsored by the youth offices of the Cooperative Baptist Fellowship, the Presbyterian Church (USA), and The Episcopal Church.
Videos for your Soul are particularly posted for youth and young adults, but can be used by people of all ages. You may visit the site daily or just once, and subscribe to receive a daily email with the video of the day.

Lenten Daily Calendars are a great way to keep track of the 40 days and participate in various prayer practices and giving. These are available in Founders' Hall.