Lenten Offerings ...
Lent offers us a time to reflect on our life and to make changes and learn new ways to experience God. This year at St. Dunstan's we are highlighting two programs for adults which offer daily reflections and an opportunity to come together weekly for community reflection and conversation. One of these is featured in our Sunday morning formation and the other is offered on Thursday evenings. We are also offering an opportunity for families to partake in a simple meal, for children to sing and restart our children's choir program, and for all to experience a simple nighttime liturgy. Read more about how to be a better disciple here.
Thursday Evenings
Children's Choir Rehearsals
March 12 & 19 and April 2 at 5:45 p.m. Children will gather with Michael and other adults to learn music for Holy Week and Easter. All children from age 4 through grade 5 are welcome to participate. Older youth are welcome to come and serve as leaders for this program. Please connect with Michael if your children will participate.
Sue
and Jeff present "The Lord's Supper"
March 12 & 19 and April 2 - 6:30 p.m. A simple supper for all ages between the Children's Choir and Adult Choir rehearsals. Parents (actually all adults) are welcome to gather in the kitchen for refreshments while the children rehearse. This will be followed by Good Night God prayers at 7:10 p.m. every week except April 2, Maundy Thursday. A sign-up is posted at the church and online here.
Adult Choir Rehearsals
7:30 p.m. each Thursday evening in Lent. All are welcome to join the choir and those who wish to sing for Easter services are encouraged to come for the first 30 minutes of rehearsal time.
Evening Bible Study ... Living Well through Lent
Thursday evening from 7:30 to 8:30 p.m. Sue will facilitate the conversation and each participant will be given a devotional booklet with daily reflections on the Sunday gospels focusing on practicing resilience with all our heart, soul, strength, and mind. Please be in contact with Sue to join this group or sign-up at church. Living Well booklets are on the table in Founders' Hall.
Daily Lenten Morning Prayers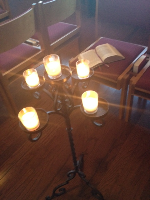 At 8 a.m. each weekday in Lent St. Dunstan's offers parishioner-led Morning Prayer, a brief quiet service with scriptures and psalms. Why not consider stopping by one morning a week on your way to work or after dropping off the kids for a few moments of candle-lit peace and prayer at the back of the church. Enjoy 20 minutes of peace before stepping out into the world.
Other Lenten reflections and growing opportunities ...
Lent Madness - vote for your favorite saint, learn about their life and witness, and explore legends, quirks, quotes and even enjoy saintly kitsch. Find out all you need to know to make an informed selection.
Two great devotions sites for youth:
d365

-
a daily devotional specifically designed for youth and young adults. Produced by Passport, Inc. and sponsored by the youth offices of the Cooperative Baptist Fellowship, the Presbyterian Church (USA), and The Episcopal Church.
Videos for your Soul are particularly posted for youth and young adults, but can be used by people of all ages. You may visit the site daily or just once, and subscribe to receive a daily email with the video of the day.
Lenten Daily Calendars are a great way to keep track of the 40 days and participate in various prayer practices and giving. These are available in Founders' Hall.